An Intro to Spanish Chorizo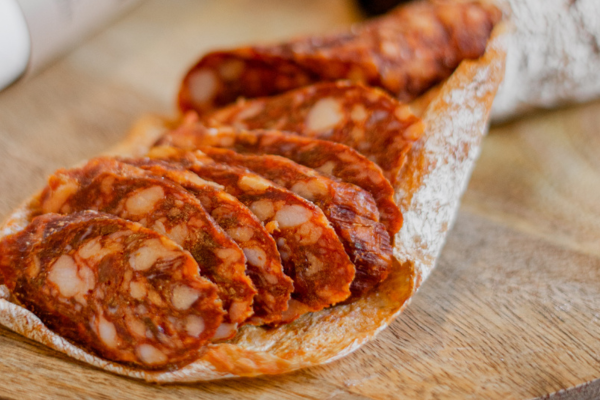 We're delighted to share the details (and Cúrate Chorizo) with you!
There's nothing we'd rather talk about than Chorizo – it's an absolutely essential part of Spanish cuisine. To begin, this quote from Alexandre Dumas captures the essence of chorizo in relation to Spanish culture.
"In every respectable household in Spain, they make as many chorizos as there are days in the year: 365 sausages for their own consumption and 50 more for days when they have guests." – Alexandre Dumas
Both cured and fresh chorizo have been a staple for hundreds of years and once you try them it's not hard to see why.
Did you know that according to the World Charcuterie Awards there are 17 officially recognized varieties of chorizo? Each one captures what makes the region it comes from so special. From how it's cased to the difference between spicy fresh Mexican chorizo and sweet dry cured Spanish varieties, the differences can be vast.
Cured Spanish chorizo is made with a combination of pork meat and fat, paprika, garlic, and other spices. It is then stuffed into natural casings and cured for a period of time. The curing process allows the flavors of the spices to meld with the meat, resulting in a rich, complex flavor that is both savory and slightly smoky.
One of the key ingredients in Spanish chorizo is paprika or as the Spanish call it, pimentón, which is what gives it its distinctive red color. There are different types of paprika used in chorizo, including sweet, hot, and smoked. The type of paprika used will affect the overall flavor and spiciness of the chorizo.
Our Cúrate Chorizo is made in the traditional Spanish style, not quite sweet, not quite spicy. For us, this product encapsulates what Spaniards think of when chorizo comes to mind.
How to enjoy Cúrate Chorizo
Our favorite way to enjoy Cúrate Chorizo is to slice it, let it come to room temperature, and serve it alongside other cured meats, cheeses and crackers on a charcuterie board. But this pintxo is a house favorite of Katie Button & Felix Meana – it makes an easy and impressive snack to serve to guests! We hope you get to try it soon and enjoy the deliciousness that is Spanish chorizo!
Chorizo Pintxo Recipe
makes approximately 40 skewers – perfect for a house full of guests!
Ingredients:
1 link Cúrate Chorizo 
2 6-ounce jars piparra peppers 
6 ounces 3-month Manchego cheese
Method:
Peel the casing off the chorizo and slice into rounds about 1/4 inch thick
Cut the cheese into 1/2 inch cubes
Remove the stem from the piparras. If any peppers are extra long, cut them in half. They should each be about 2-3 inches long.  
Using a toothpick, stab one piparra first then follow with one piece each of chorizo and cheese. 
Drizzle with olive oil and serve at room temperature.
Sources:
Christine McCleod, Cúrate Culinary Producer
Jonathan Pridgen, Cúrate Head of Charcuterie
---