Katie Button and Amanda Freitag SOBEWFF Demo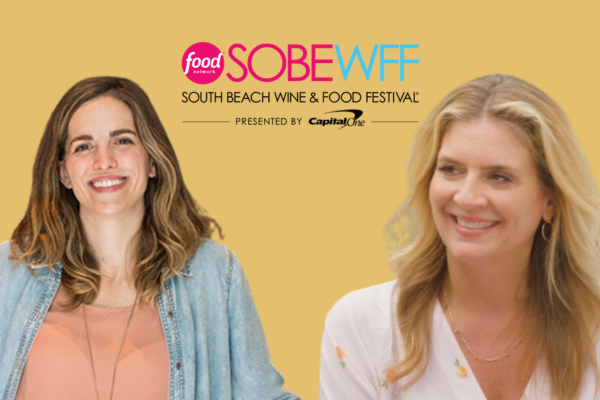 In February 2023, along the sunny shores of South Beach, SOBEWFF®'s marquee event, Goya Foods' Grand Tasting Village featuring Publix Culinary Demonstrations sponsored by Sub-Zero Group Southeast tookplace. Chef Katie Button is teamed up with Chef Amanda Freitag to celebrate all things TAPAS!
On the menu:
Stuffed Piquillo Peppers, by Amanda Freitag
Chilled White Gazpacho, by Amanda Freitag
Scallops a La Gilda, by Katie Button
Find the recipes for both of these Spanish-inspired recipes below.
making it at home? tag us! @chefamandaf @chefkatiebutton #sobewff
Stuffed Piquillo Peppers with Charred Eggplant
4 piquillo peppers
2 eggplant
1 shallot, finely chopped
3 tablespoons parsley, chopped
1/4 cup panko breadcrumbs
1 teaspoon smoked sea salt
salt & pepper to taste
extra virgin olive oil or chili oil
1 cup roughly chopped & toasted Marcona almonds
micro greens or parsley leaves for garnish
Char eggplant skin on over an open flame until skin is blistered and eggplant is cooked, approximately 10 minutes. Remove eggplant from the flame and place in a bowl to cool. When cooled, peel the skin away from the eggplant flesh and place into a bowl and mix with shallot, parsley, panko & smoked sea salt making sure to break up the eggplant while mixing. Season to taste and place in a pastry bag.

Fill the piquillo peppers with the eggplant mixture and place the peppers in the center of the plate. Sauce around with the white gazpacho and garnish with toasted Marcona almonds & a drizzle of olive or chili oil. Add herbs to finish.
Chilled White Gazpacho
1 cup blanched almonds (skinned)
2 garlic cloves
2 cups coconut milk
2 tablespoon sherry vinegar
2 thick slices country bread, torn in to small pieces
1 cup extra virgin olive oil
1 cup seedless green grapes
Kosher salt, to taste
In a bowl, cover torn bread with 1 cup coconut milk. Add almonds and garlic to blender and chop fine. Slowly add 1/2 cup coconut milk, 1/2 of soaked bread, 1 tablespoon sherry vinegar, and 1/2 cup of oil. Once combined, continue with the remaining ingredients, blend until completely smooth. Season with kosher salt.
Scallops a la Gilda
12 ounces scallops
3/4 teaspoons salt
1 tablespoon grapeseed oil or other high temp cooking oil
1 tablespoon olive oil
2 tablespoons anchovies in olive oil, drained and minced
2 1/2 tablespoons pickled piparra peppers, sliced thinly ~3-6 peppers depending on size
2 cloves garlic, minced
1/3 cup green olives, pitted and quartered
1 cups chardonnay
1/4 cup unsalted butter
1 teaspoons chopped parsley
1/2 teaspoon chopped tarragon
Dry the scallops with a paper towel and season with 1 1/2 teaspoons of salt. 
Heat a 10 – 12 inch cast iron skillet or non-stick pan over medium high heat, add 1 tablespoon grapeseed oil. It is important that the skillet is extremely hot before continuing. The scallops will need to be seared in batches to avoid overcrowding. Once the oil is hot, add 1 tablespoon of butter and the first round of scallops. Sear until golden brown 1 – 2 minutes, flip and cook for 1 minute. Remove from the pan and place on a plate to rest. Continue until all the scallops are cooked. 
Turn the heat down to medium and add piparra peppers sear and allow to gain some color, add the garlic and 1 tablespoon of olive oil and cook until softened. Stir in olives and anchovies and cook for 2 minutes.  Deglaze with white wine, cook until reduced by 3/4. Take the pan off the heat and whisk in the remaining butter, working 1 tablespoon at a time until all has been added. Sprinkle in the parsley and tarragon. Add the scallops back to the pan and coat with the sauce.
---