Preserved Lemon Artichoke Dip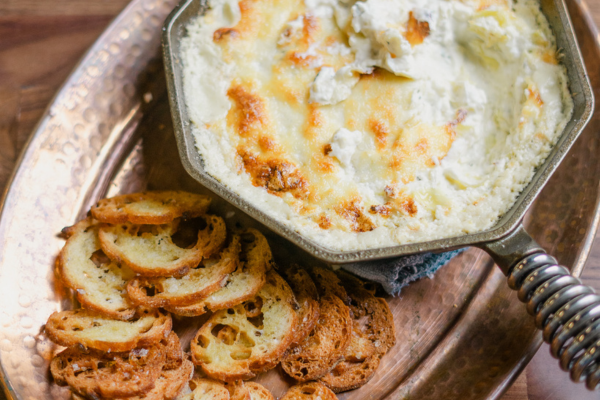 Preserved lemons are one of the best flavor-bombs to keep on hand. They are salty, tangy, and offer a special citrus lift to a wide variety of recipes! A few weeks back, I shared about making preserved lemons on my Instagram page – did you start a jar or two?! This recipe is a delicious way to use the lemons when they're ready. Chop them up finely (no need to remove the peel!) and fold in to a classic artichoke dip base to add a subtle lemon flavor. Give it a try next time you need a crowd-pleasing appetizer or snack to share!
Ingredients:
1/2 cup sour cream 
1/2 cup mayo 
4 oz cream cheese, at room temperature
1 3/4 cups idiazabal cheese, shredded 
2 cloves garlic, minced
3 tablespoons preserved lemon 
1 teaspoon black pepper
1 14 ounce can artichoke hearts, drained and chopped 
1 teaspoon fresh dill, chopped
Method:
Preheat the oven to 375º 
Grease a 8X8 pan, small pie shell or 8 inch cast iron skillet 
In a large bowl mix together the sour cream, cream cheese, mayonnaise, 1 1/2 cups shredded idiazabal, garlic, preserved lemon and black pepper until thoroughly combined. 
Fold in the artichoke hearts, and dill. Transfer to the prepared baking dish. Sprinkle the remaining idiazabal on top.  
Bake for 20 minutes or until bubbly. Remove from the oven and enjoy warm with toast points or crackers.  
Yield: 3 cups 
Active Time: 10 minutes
Total Time: 30 minutes
---