Recipe: Sobrasada Flatbread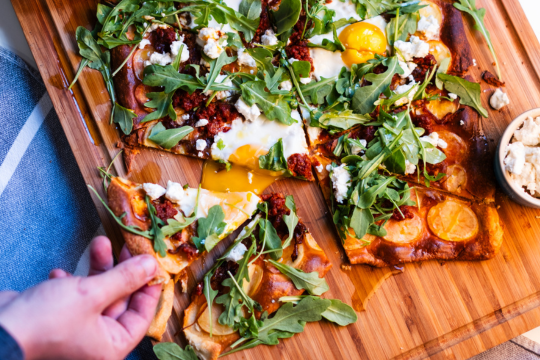 This flatbread combines the rich, spicy goodness of Cúrate Sobrasada with the earthy notes of caramelized onions, crispy potatoes, and the luxurious creaminess of soft goat cheese. Topped with perfectly cooked eggs and fresh arugula, it's easy and approachable, but brings together the best of Mediterranean-inspired cuisine.

The combination of crispy, golden-brown flatbread crust and the runny yolk of the eggs creates a mouthwatering contrast, while the arugula adds a touch of freshness to every bite. The result is a delicious and visually appealing dish that's perfect for brunch, lunch, or dinner. So, preheat your oven, grab your ingredients, and let's embark on this flavorful journey together!
Ingredients:
1 tablespoon grapeseed oil
1 medium yellow onion, sliced thin
1/2 teaspoon salt
1 package prepared flatbread
1/2 pound yellow potatoes, sliced 1/8 of an inch thick
1 teaspoon olive oil
1 link Cúrate Sobrasada
3 eggs
fresh cracked pepper
4 ounces soft goat cheese
1 cup arugula


Method:
Preheat oven to 425 º F

Heat 1 tablespoon grapeseed oil in a medium skillet over medium heat. Add the sliced onions to the pan with 1/4 teaspoon of salt and cook, stirring occasionally until the onions have turned a golden brown. Turn off the heat and allow to cool

Slice the potatoes into rounds 1/8-inch thick

Prepare the dough for the oven according to package directions.

In a single layer. arrange the potatoes over the dough leaving 1/2-inch around the edges. Drizzle with olive oil and sprinkle with 1/2 teaspoon salt.

Place the flatbread into the oven and bake for 8-10 minutes to parcook the potatoes and crust, or until the crust is golden brown. Rotate, as necessary. Remove and place on a work surface.

Top with the caramelized onion and the sobrasada, broken up into bite-sized crumbles. Crack the eggs onto the pizza making sure they are in separate areas of the pizza. Season the eggs with salt and pepper.

Return the flat bread to the oven and cook for 5-10 more minutes or until the egg whites have set but the yolk is still runny. Remove from the oven and slide onto a cutting board. Top with goat cheese, arugula, and another drizzle of olive oil.


Yield: 4 portions
Active Time: 30 minutes
Total Time: 30 minutes
---