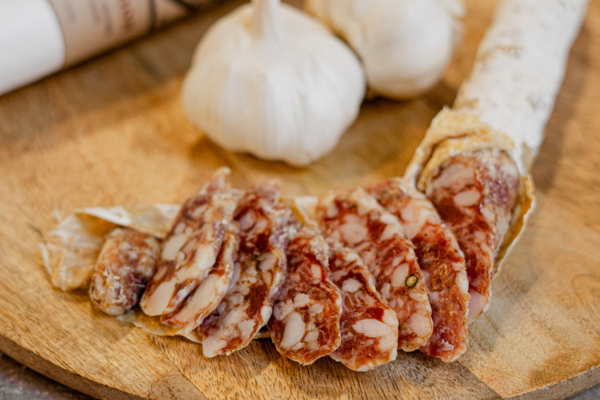 According to Chef Katie Button, "Salchichón is the little black dress of our charcuteríe offerings. Salchichón is the one that I turn to every day.  It gets sliced thin and squeezed between two halves of a baguette smeared with tomato and olive oil and tossed in my backpack as a treat when I finally make it to the top of Looking Glass Rock. It's the one I unwrap, remove the casing and take a giant bite out of, forget the knife! It's the one I put on the coffee table with potato chips and olives before watching my favorite movie…or for Felix when the soccer game is starting."
Salchichón has been a reliable, delicious staple if Spanish cuisine since the middle ages. A blend of pork, black pepper, white pepper, salt and nutmeg it is packed into casing and dry cured to perfection. Each Salchichón spends at least 45 days hanging which allows all the subtlety of the pepper, and nutmeg to come to full maturity, and it is worth the wait. 
Now, you might be wondering what makes Salchichón different from salami? Besides the point of origin the biggest difference is the diameter, Salchichón is significantly thinner than its Italian counterpart. Salchichón is also cured longer, making it more delicious in our opinion.
Simple Salchichón Sandwich
Makes 2 tasty sandwiches!
Ingredients:
1 link Cúrate Salchichón
1 tomato
1 tablespoon olive oil
1 20-inch baguette
Method:
Preheat oven to broil on high – 500º
Using a sharp knife, remove the casing of the Salchichón, and slice very thinly on a 45 degree angle.
Slice the baguette open down the middle using a bread knife. Place the baguette pieces face open onto a baking tray and toast under the preheated broiler, watching carefully to be sure not to burn. Remove the baguette from the oven, and place onto the work surface to cool slightly.
Drizzle the toasted baguette with olive oil. Cut the tomato in half, and drag the meat of the tomato along the face of the bread, coating the top and bottom half of the baguette. The toasty texture will tear into the tomato and absorb just enough tomato flavor without the sandwich getting soggy. 
Sprinkle the salt over the bread. 
Layer the Salchichón evenly across one side of the baguette, and close the sandwich. 
Cut the sandwich into 4 sections. Enjoy now with a cold beer or pack them for a hike by wrapping each section tightly.
Yield: 2 portions 
Active Time: 10 minutes
Total Time: 10 minutes
Jamonarium: https://www.jamonarium.com/en/cms/53/spanish-Salchichón-the-tradition-elaboration
Food and wines from spain: https://www.foodswinesfromspain.com/en/food/products/cured-ham-charcuterie/Salchichón-de-vic-pgi
---