Pumpkin Soup with Crispy Chorizo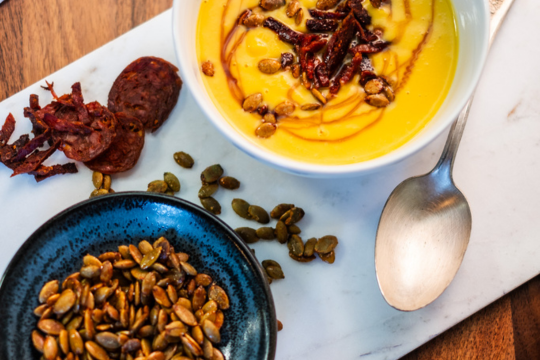 This soup recipe is very versatile and can be applied to all kinds of vegetables. Instead of using roasted pumpkin, try celery root, fennel, or potatoes. Substitute leeks for the garlic and onion - the possibilities are endless. For the pumpkin, cut them in half and roast them whole, or purchase peeled and cubed pumpkin and sauté it alongside the onions, or roast it at the same temperature for one quarter of the time. 
The real star of this show is the crispy Cúrate Chorizo and toasted pumpkin seed topping!

1 medium pumpkin 3-4 pounds, halved from top to bottom and seeded
3 1/2 teaspoons kosher salt
4 tablespoons olive oil
1 piece cheese cloth
1 tablespoon coriander seed
1 tablespoon black peppercorn
3 sprigs thyme
2 small onions, rough cut
6 cloves garlic, peeled and chopped
2/3 cup white wine
5 cups chicken stock
1 cup heavy cream
5 tablespoons unsalted butter
1/4 teaspoon nutmeg
1/8 teaspoon cayenne

Crispy Chorizo Topping:
1 link Cúrate Chorizo
1/2 cup toasted pepitas (there's a great recipe for these in the cookbook! Page 44)
Salt
Method:
Preheat the oven to 450F.
Rub the pumpkin with two tablespoons of olive oil and 1/2 teaspoon kosher salt. Lay the pumpkin cut side down on a sheet pan lined with aluminum, and roast for 40 minutes to one hour or until it is soft all the way through and can be pierced easily with a fork. Set aside to cool. Once cooled enough to handle, scoop the pumpkin out of its skin and set aside. 
Using a piece of cheesecloth, make a sachet of whole black peppercorns, whole coriander, and thyme sprigs. Create a pouch around the aromatics and close the pouch with butcher's twine or string.
In a medium pot over medium heat, add two tablespoons of olive oil and sweat garlic, onions, and salt together until soft and transparent, but not browned, about five to ten minutes. Add the roasted pumpkin.
Deglaze the pan with white wine, bringing to a simmer. Allow the liquid to reduce for about two minutes. Add the stock, sachet, nutmeg, and small amount of cayenne. Stir well and return to a simmer. Cook for an additional 20-30 minutes until the garlic, onions and pumpkin can be easily mashed. Add cream to the pot and allow it to cook for 1 minute. Turn off the heat. 
Before blending, make sure to remove the sachet.
Blend using either a stick blender or a traditional blender. The traditional blender will lend the creamiest finish.
Blender: When working with hot liquids in a blender, work in batches and only fill the blender about halfway each time. Add a tablespoon of butter into the blender with each batch. Place the lid securely onto the blender carafe and cover the hole in the lid with a kitchen towel or the closure attachment to prevent splashes. At the start of each batch, begin at a low speed, and slowly increase the speed until the soup becomes smooth. 
Stick Blender: With the stick blender submerged in the pot start on low speed slowly building to full speed. Blend the soup, adding one tablespoon of butter every one minute until it has all been added. Continue to blend until the soup is smooth. 
Taste and adjust the seasoning with additional salt, nutmeg, and cayenne as needed.
Topping
Remove the cases from the chorizo and slice into 1/16-1/8 inches thick, as thinly as possible.
Heat a sauté pan over medium-high heat and, working in batches, cook the chorizo until fully rendered, stirring, and flipping as needed. This should take about two minutes per batch. Once rendered, transfer the chorizo to a paper towel and allow it to cool. You may need to do this in about three batches.
Crumble the cooled chorizo and combine it with the toasted pepitas.
After pouring the soup into bowls, sprinkle the topping on top and add a few drops of PX sherry vinegar.
---